Atelier Silex - Espace 0...3/4
1095, rue Père-Frédéric, Trois-Rivières - N46 20.920 W72 32.896
Rathaus
My main interest as an artist is centered on life and the way in which our society's choices affect our relationship to the natural environment. Exploring housing systems, permaculture and elementary architecture, I create sculptures and ephemeral installations made from natural materials, primarily land, branches and straw. For their conception, I borrow and adapt traditional construction methods, authentic, ecological and artisanal. My works are also intended as catalysts to activate the "primary space". A way of approaching life from a more instinctive point of view, trying to stay within the limits of the essentials: food, shelter and social interaction.
As the works contain live elements or elements that are like the mimicry of life, the viewer is confronted with an experience that is more sensual than formal. His subjective perception occurs and triggers responses in the region of the unconscious, which were previously denied. In the manner of surrealism, the elements that compose the works pierce the facade of the rhetoric of the techno-economic mainstream society and open access to essential impressions.
In your artistic background, which perspective connects you to the theme Brave New World?
The rhetoric of the techno-economic mainstream society appears to me as the central point in Brave New World. This aspect, still present in our times, got me thinking more and more and had me sound alarms. But maybe it's something more insidious that runs through the history of mankind. This is why I chose to work with poor materials and especially make hand-crafted ephemeral works.
Biography
A native of Sydney, Australia, Christopher Varady-Szabo has been living in Gaspe, Quebec, for more than thirty years. After a year of study in architecture at the University of New South Wales, he completed a Bachelor of Fine Arts at the University of Quebec in Montreal (UQAM) in 1990 and a Masters in Visual Arts at the University of Ottawa in 2013. His work has been shown in Quebec, Ontario, Saskatchewan, Switzerland, Finland, France, Belgium, Poland and Taiwan. His work has earned him numerous scholarships from the Conseil des arts et des lettres du Québec and the Canada Council for the Arts.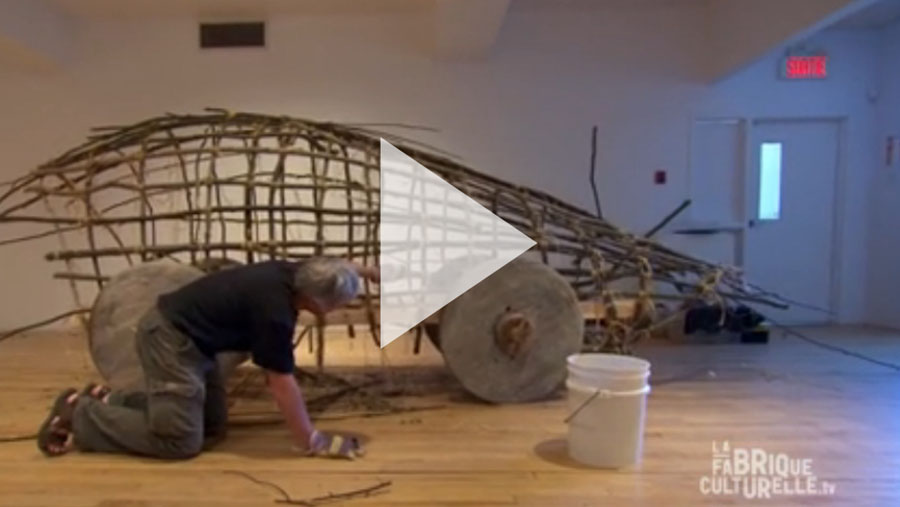 VIDEO / La Fabrique Culturelle